08 octobre 2006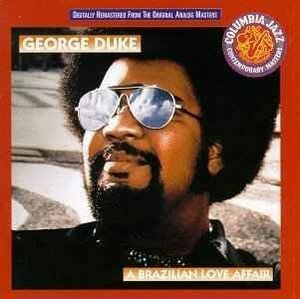 Auréolé de ses nombreux succes, l'ancien pianiste de franck Zappa s'envole à Rio de Janeiro pour pondre ce que beaucoup considèrent comme son meilleur album.Entouré de musiciens bresiliens locaux et non des moindres : Airto, Flora Purim, Raul de souza, Milton Nascimento...L'univers jazzfunk du Duke amplifié par les rythmes latin prend toute sa démesure.Son de basse qui claque,guitares funky, chants délicieux,rythmes effrénés, sensualité; piano, rodhes, nappes de synthés surfant sur le tout .On en redemande!BROUILLONNNNNNNNNNNNNNNNNNNNNNNNNNNNNNNNNNNNNNNNNNNNNNNNNNNNNNNN
Brazilian love affair
Summer breezin'
Cravo E canela
Alone-6AM
Brazilian sugar
Sugar loaf moutain
love reborn
Up from the sea it arose
And ate Rio in one swift bite
I need you now
Ao que vai nascer
George Duke: Lead vocal, vocals, rhodes electric piano, oberheim strings, prophet V synthesizer, yamaha electric grand, arp odyssey, minimoog, oberheim polyphonic synthesizer, yamaha CP 70 grand piano, vibes, crumar string ensemble, nine foot yamaha acoustic grand piano
Airto: Percussion, shaker, tambourine, surdo
Chico Batera: Percussion, ganza, rotonton, triangle, reco, conga, chekere, caxixi, bongos,agogo, castanets
Sheila Escovedo: Timbales, water chimes, glass chimes, cowbell, bongos, finger chimes
Byron Miller: Bass
Jamil Joanes: Bass
Roland Bautista: Guitar
Toninho Horta: Acoustic guitar, electric guitar
Ricky Lawson: Drums
Roberto Silva: Drums
Jerry Hey: Flugelhorn
William Reichenbach: Trombone
Raul de souza: Trombone
Larry Williams: Tenor sax
Milton Nascimento: Vocals, acoustic guitar
Flora Purim: Vocal
Simone: Lead vocal
Josie James: Vocal
Lynn Davis: Vocal
Lucinha lins: Vocals
Flavio Faria: Vocals
Lucia Turnbull: Vocals
Zeluiz: Vocal
Murrey Adler: String contractor
- REFERENCES -
LP: Epic 84311
CD: Sony Bmg Entertainment 1992
- Où LE TROUVER ? -
En CD depuis 1992 avec le titre Caxanga en bonus track. Il est conseillé de se procurer le lp en attendant une réedition plus récente.
- + d'INFOS -
Historique des synthétiseurs
07 octobre 2006
Album solo de Dave Grusin sortie en 1982 chez Arista Records-GPR.Un disque paisible, sans prétention, plein de douceur.L'occasion d'écouter quelques compositions de ce merveilleux pianiste ryhtmées par la guitare, légerement funky, de Lee Ritenour.On citera le titre brésilien: She could be mine écrit par Don Grusin avec le percussioniste Rubens Bassini, Crystal morning, Sweetwater nights... et la présence de Steve Gadd.3 etoiles
25 septembre 2006
Un album solo du guitariste préféré d'Emuir Deodato paru chez Marlin Records en 1975. Un festival de guitares signé John Tropea, entouré pour l'occasion de Will Lee (bass), Don Grolnick (keyboards), Rubens Bassini (percussion)... A la batterie, tendez l'oreille, Rick Marotta (left drums) et Steve Gadd (right drums) nous régalent d'un double drumming .La variété du jeu de Tropea, ses multiples sonorités, la richesse des instruments font de cet enregistrement un must . On citera le déodatien Tambourine, 7TH Heaven écrit, arrangé et orchestré par Don Grolnick, Cisco disco du flutiste Bob Mintzer ou The Bratt pour le duo de guitariste Spinozza - Tropea 5 etoiles Brouillonnnnnnnnnnnnnnnnnnn
23 septembre 2006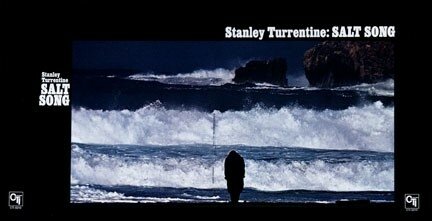 Un album du saxophoniste ténor Stanley Turrentine à la croisée du jazz, du rythm'n blues et du gospel parsemé de sonorités brésiliennes (Airto aux percussions, Emuir Deodato aux arrangements). Un petit bijou mis en valeur par une prise de son lumineuse signée Rudy Van Gelder en 1971. Des musiciens sur mesure : Cobham, Carter, Laws, Tee, Parlan... et Eric Gale, le guitariste, dans un de ses meilleurs enregistrements pour le label CTI. Trés belle sonorité, solos inventifs, Gale et Turrentine, au diapason sur Gilbraltar (Freddie Hubbard), Storm et surtout le traditionnel : I Told Jesus ... Magnifique.★★★★★
20 septembre 2006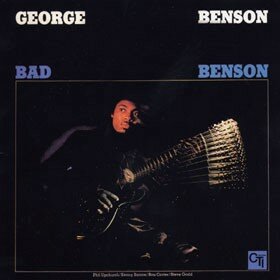 Moins connu que le celebre Body Talk, paru l'année précedente, cet album de George Benson n'en demeurre pas moins un incontournable. Entouré d'un quatuor d'excellence (Steve Gadd, Kenny Barron, Ron Carter, Phil Upchurch), le guitariste vedette du catalogue CTI, brille de mille feux dans cet enregistrement aux frontieres du jazz et du funk. D'abord sur le classique : Take Five de Paul Desmond où Kenny Barron nous gratifie de son remarquable toucher au piano Fender Rodhes. Puis sur No sooner said than done où le jeu subtil de Phil Upchurch à la guitare rythmique tient la dragée haute à Benson. Des compos plus douces aussi : Summer wishes, Winter dreams ou The changing world mettent en valeur le phrasé élégant du guitariste. Arrangé et dirigé par Don Sebesky, accompagné par un ensemble classique (cordes, bois, cuivres), ces titres ne sont pas sans rappeler les productions A&M de la décennie précédente.★★★☆☆☆
Take Five
Summer Wishes, Winter Dreams
My Latin Brother
No Sooner Said than done
Full Compass
The Changing World
Take The "A" Train
Serbian Blue
From Now On
George Benson : guitar
Phil Upchurch : guitar, electric bass (track #5), percussion (track #3, 8)
Kenny Barron : piano
Ron Carter : bass
Steve Gadd : drums
John Frosk, Alan Rubin, Joe Shepley : trumpet
Wayne Andre, Garrett Brown, Warren Covington : trombone
Paul Faulise : bass trombone
Jim Buffington, Brooks Tillotson : French Horn
Ray Beckenstein, Phil Bodner, George Marge, Al Regni : flute/clarinet/English horn
Seymour Barab, Frank Levy, Jesse Levy, Charles Mccracken, Alan Shulman, Paul Tobias : cello
Margaret Ross : harp
Arranged and conducted by Don Sebesky
Recorded at Van Gelder Studios, by Rudy Van Gelder
- REFERENCES -
LP : CTI 6045 S1
CD : SONY (CTI 5052852)
- Où LE TROUVER ? -
Derniere réedition sur CD, en 2001 chez sony avec 3 titres en bonus dont l'excellent Serbian Blue (13:03) écrit par Don Sebesky
19 septembre 2006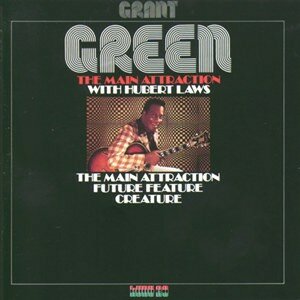 Paru en 1976 sur le label Kudu, cet album mineur dans la carriere de Grant Green ne laisse pas indifferent. Bien sur le guitariste, miné par la maladie, n'est plus que l'ombre de lui même; pourtant la dream team de musiciens choisis pour l'épauler parvient à sauver l'enregistrement du naufrage et, mieux, à le rendre savoureux. L'attraction principale de l'album c'est précisément : The main attraction, un Groove d'enfer de 19 minutes avec Will Lee (basse), Steve Khan (guitare rythmique), Andy Newmark ex-Sly and the family stone (batterie).
La section de cuivres, comme souvent sur ce label, est de toute beauté. Les meilleurs sont là : Jon Faddis à la trompette, Ronnie Cuber au saxophone bariton, Joe Farrell saxophone tenor et Mike Brecker, dans un trés grand jour, pour l'intégralité des solos. On grimace un peu sur le titre dancefloor : Future Feature typique des productions CTI à partir de 1975, léger, aérien comme la flute d'Hubert Laws. ★★★☆☆☆
The Main Attraction
Future Feature
Creature
Grant Green : guitare / solos
Steve Khan : guitare
Don Grolnick : piano electrique / clavinet
Will Lee : basse
Andy Newmark : batterie
Carlos Charles :percussion
Sue Evans : percussion
Hubert Laws : flute
Jon Faddis : trompette
Burt Collins : trompette
Sam Burtis : trombone
Mike Brecker: saxophone tenor / solos
Ronnie Cuber : saxophone bariton
Joe Farrell : saxophone tenor
Tracks recorded at A&R Recording
Don Hahn, Engineer
Brass and Percussion and Grant Green
recorded at Van Gelder studios
Remixed and mastered by Rudy Van Gelder
Recorded March, 1976
-REFERENCES-
LP: Kudu KU-29
CD: Sony (CTI 5051672)
- Où LE TROUVER ? -
Derniere réedition en 2001 chez sony, le transfert sur CD est remarquable
- + d'INFOS -
la discographie de Grant Green
17 septembre 2006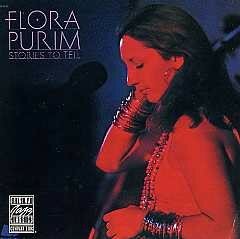 Chef d'oeuvre absolu paru en 1974 chez Milestone Records . Un disque de jazz fusion à la sauce tropicale mitonné par quelques musiciens de renom : Oscar Neves , Miroslav Vitous , George Duke, tous trois crédités des arrangements. Un casting de qualité : Ron Carter , Earl Klugh , Raul de Souza ... et un invité surprise : Carlos Santana sur Silver Sword. Deux trés belles versions de standards bresiliens : Insensatez (Jobim- De Moraes) et Vera Cruz (Nascimento-Hall). La voix superbe, sensuelle et éthérée de Flora Purim inspirée par son batteur fétiche, son compagnon dans la vie : le percussioniste Airto. ★★★★★
Stories to tell
Search for peace
Casa forte
Insensatez
Moutain train
To say goodbye
Silver Sword
Vera Cruz
O Cantador / I just want to be here

George Duke :Keyboards , ARP synthesizer
Earl Klugh , Oscar Neves , Carlos Santana : guitares
Airto : drums , percussion
King Errisson : conga drums
Miroslav Vitous : bass , Moog synthesizer
Ron Carter : bass
Raul de Souza : trombone solo
George Bohanon : trombone
Oscar Brashear : flugelhorn
Hadley Caliman : flute
Ernie Hood : zithers , second voice
Larry Dunlap : piano

- REFERENCES -
LP : Milestone M-9058

- Où LE TROUVER ? -
Disponible depuis 1991 en CD sur le label O.J.C (original jazz classics) numéro de catalogue : 619
Le LP sorti chez Milestone en 1974 , sans etre rare , est pas toujours facile à trouver...en bon état

+ d'INFOS
Flora Purim Website
15 septembre 2006
Décédé en 1977, l'altiste Sonny Criss laisse en héritage the joy of jazz paru la même année alors que le disco déboule sur les dancefloors. Cette ultime galette est une confiserie jazzfunk légère qui fera hurler les puristes mais qu'importe. Ce concentré de groove instrumental fait la part belle aux reprises (don't worry 'bout a thing de Stevie Wonder ou encore You're so beautiful de Billy Preston). A la manière de Grover Washington Jr, Sonny Criss en profite pour enchainer les solos sur fonds de coulis de violons et rapeller aux novices et aux esprits grincheux qu'il joua aussi dans les années 40 avec un certain Charlie Parker. Pour ce dernier tour de piste, Criss s'est entouré de quelques pointures de la scène jazz-funk : Patrice Rushen au piano, Blue Mitchell à la trompette ou encore du guitariste Lee Ritenour.★★★☆☆
1. You've Lost That Lovin' Feeling
2. Don't You Worry 'Bout a Thing
3. You Are So Beautiful
4. Turn Me Loose
5. Stolen Moments
6. Have a Talk with God
7. Midnight Mellow
Sonny Criss (as) Bill King, Ernie Watts (reeds)
Blue Mitchell (tp) George Bohanon (tb)
Sonny Burke (p) Patrice Rushen (el-p)
Mitch Holder, Lee Ritenour (g)
Henry Davis, Chuck Domanico, Scott Edwards (b)
Eddie "Bongo" Brown, Esmond Edwards (per)
Viola Jackson (vo -6)
Unidentified horns and strings
- REFERENCES -
LP: Impulse AS-9326
CD : MVCZ-81(Japon)
- Où LE TROUVER ? -
Disponible depuis 1995 en CD chez Aris/Grp (Sony BMG)
Le LP sorti chez Impulse en 1977 se trouve facilement sur Ebay pour moins de $10
- + d'INFOS -
la discographie de Sonny Criss

11 septembre 2006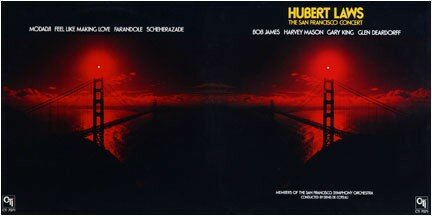 This live set finds flutist Hubert Laws both looking backwards toward his best CTI recordings and ahead to his generally abysmal output for Columbia. With Bob James doing the arrangements, the music is more overtly commercial than Don Sebesky's earlier work. The adaptations of themes by Bizet and Rimsky-Korsakoff are worthwhile, and Laws does a fine job on the catchy Feel Like Making Love; the other selection is a forgettable tune by Dave Grusin. Backed by a huge string orchestra, Laws plays quite well, uplifting the material and doing what he can with the charts. This was his final CTI release. ~ Scott Yanow, All Music Guide ★★★★☆
1. Pensativa (Clare Fischer) - 6:14
2. Gymnopédie #1 (Erik Satie) - 5:03
3. Feel Like Makin' Love (E. McDaniels) - 6:14
4. Modadji (sic: Modaji) (David Grusin) - 12:10
5. Scheherazade (Nicolai Rimsky-Korsakoff) - 8:20
6. Amazing Grace (p.d.) - 5:49
7. The Chicago Theme (Bob James) - 7:13
8. Farandole (L'Arlésienne Suite #2) (Georges Bizet) - 10:58
- REFERENCES -
62 min - 15 plages
Enregistré au Paramount Theatre, Oakland, California: October 4, 1975
Producteur : Creed Taylor
Ingénieur : Wally Heider.
Mixé et enregistré le 13 décembre 1976 par Rudy Van Gelder

LP: CTI 7071
CTI (Jap) GP-3101,
CTI (Jap) LAX-3190,
CTI (Jap) K20P-6825

CD: MTCJ-4013 (JAP paper sleeve)
KICJ-9022 [CD]

Photo de couverture (Pete Turner) + interieur (White Gate)
Design Rene Schumacher.

- Où LE TROUVER ? -
CD Japonais - édition gatefold cardboard sleeve - $17
- + d'INFOS -
Le site officiel de Hubert LAWS